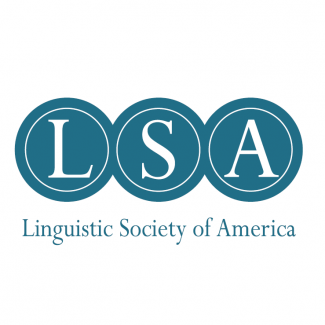 University of Georgia Linguistics Faculty and Graduate Students presented at the 94th Annual Meeting of the Linguistics Society of America, in New Orleans, Louisiana, January 2-5, 2020.
Rachel Olsen: "Processing our feelings: An acoustic analysis of emotional prosody in naturalistic speech."
Abstract: The emotion with which words are produced is essential to effective communication because it tells the receiver how to best respond. Such emotion is often expressed via prosody. Although emotional prosody has been studied in acted speech, it is understudied in naturalistic speech. This work thus analyzes pitch trajectory and pitch range in stressed vowels in the naturalistic corpus of personal conversations, StoryCorps. Results indicate that pitch trajectory and pitch range tend to group together according to where intended emotions fall along the arousal dimension of emotional affect (active vs. inactive), but not along the valence dimension (positive vs. negative).
Dr. Margaret Renwick and Joseph Stanley: "Back Vowel Distinctions and Dynamics in Southern US English."
Abstract: We investigate the relative phonetic placements and vowel-inherent dynamics of GOOSE, GOAT, FOOT, THOUGHT, and LOT in Southern US English using the legacy corpus, DASS, as our dataset. Based on a Generalized Additive Mixed-Effects model fit to 1.4 million formant trajectories, we find that GOOSE- and GOAT-fronting were nearing completion in the women around the 1920s—but still progressing the men through the 1960s—and that LOT and THOUGHT are robustly distinct, supporting earlier descriptions of Southern speech. Furthermore, modeling age as a nonlinear effect illuminates how change progresses in apparent time, clarifying whether shifts are starting, ongoing, or ending.
Dr. Jon Forrrest with Dr. Feier Gao (Indiana University, Bloomington): "Mandarin full tone realization and indexical meaning."
Abstract: Tone neutralization in Standard Mandarin requires syllables in a weakly-stressed position to be destressed and toneless, yet such process is often incomplete in some Mandarin dialects, e.g., Taiwanese-accented Mandarin. The current study provides both a spoken-corpus analysis and a preliminary perception task to address how the "cute" social persona is indexed in such supraregional feature and whether listeners also perceive the social connection between full tone realization and "cute" characteristics.The results showed that the full tone variants, while subconsciously connected to general speaker categories like gender, may not strongly associate with higher-level social personae in the minds of listeners.