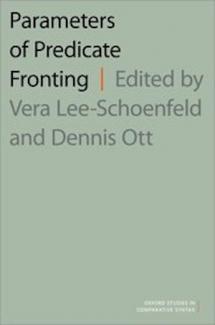 A volume of papers co-edited by Vera Lee-Schoenfeld and Dennis Ott, titled Parameters of Predicate Fronting, was published by Oxford University Press this summer. This book showcases state-of-the-art research on predicate fronting and the parameters governing its realization in a range of diverse languages, including English, German, Malagasy, Niuean, Ch'ol, Asante, Twi, Limbum, Krachi, Hebrew, and multiple sign languages.
Among the contributions to this volume is "Verb Phrase I-Topics in German" by Anya Hogoboom (College of William and Mary) and Vera Lee-Schoenfeld.
For more information, see the OUP website.